It has been very busy at TWK Intergalactic Headquarters, so our hero has not been on the water much. However, on the way back from a little work travel, TWK got to stop and fish with his buddy, Mr. Lucky Sperm, on some private water (that is private, not privatized--TWK did not join the Spring Ridge Club).
It was chilly but the feeshes were there and were biting if you ran something deep and close to them. Somehow, we managed to do that a few times. Here is a pic of one that TWK caught close enought to Mr. LS to get its picture taken (but luckily far enough away so that the secret weapon was removed from its mouth before the snap).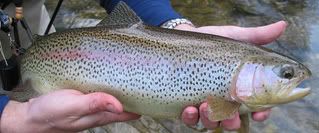 Now these aren't the wiliest creatures in the water, since they don't get a lot of pressure, but it is still a great place to fish. Not dumb enough to venture a guess about its size, but I will point out to you hero shot haters (and to the ladies, of course) that TWK has very large hands.